I grew up watching
Sesame Street.
I never watched anything else related to the Muppets (though Sesame Street and the Muppets are
technically separate from each other
). But last night at Bestie's house, I watched
The Muppet Movie (the 1979 film
). Not to be confused with 2011's
Muppet Movie.
But actually, speaking of
Muppet Movie,
a lot of the hullabaloo lately has been about its (semi-) sequel:
Muppets Most Wanted,
which comes out March of next year. Below is the teaser trailer.
Yes, Disney owns the Muppets. Only officially since 2004, but even in the 1980s, "Jim Henson entered discussions with
The Walt Disney Company
, in which the latter would acquire
Jim Henson Productions
and in turn, own
The Muppets
franchise.
However, due to Henson's death in 1990, solid negotiations never materialized" (
Wikipedia
).
Right before Henson's death, he and Disney paired up to film
The Muppets at Walt Disney World, "
part of an awareness campaign to promote the planned merger of
The Jim Henson Company
with
The Walt Disney Company
"
(
The Muppet Wiki
).

As part of
The Magical World of Disney
, the TV special aired on NBC on May 6, 1990 – literally 10 days before
Henson's death
.
The best part of this TV special is when a little girl (played by a young Raven-Symoné) sings "
Rainbow Connection
" to Kermit to help cheer him up. "
I don't believe this," Kermit says.

Image from a Google search.
At the end of the TV special, Kermit takes his Muppet friends to visit Mickey Mouse (animated version, voiced by the brilliant Wayne Allwine), who invites them to put their "names and footprints
into the cement
...Welcome to the family." If that doesn't tell you what was planned for the Muppets, I don't know what does.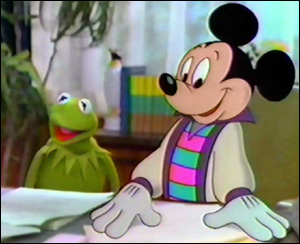 Two of the most iconic characters, together.
Image from the Disney Wiki.
See you all real soon!