After reading about all the different flea markets, garage sale, etc. Disney item finds on blogs such as
Disleelandia
, I start to dream about it one day happening to me. One day I'll go to another antique store or something and find a Disney item. And then I'll buy it! I won't care what
my family
may think.
Well, it happened recently!
Last week, my
unnamed sister
and I headed to
our guitar lessons
(do not ask me to play please, I'm not that good). Right down the street from our instructor's house was a garage sale.
Since my sister and I both have half-hour lessons and she was going first that day, I devised a plan and was able to convince my mom to go along with it.
MMM
and I would head to the garage sale during my sister's lesson, return in enough time hopefully, and then
MMM and my sister
would head over to the garage sale, and I'd meet them at the car after my lesson.
MMM and I browsed the garage sale for a bit. There weren't any
Breyer horses
(model horses I collect and always keep an eye out). The only Disney items I found was a Disney Princess paddle thing (you know those paddles with a ball attached by a string?) and a
Winnie-the-Pooh
picture frame.
MMM refused to buy the frame for me (I planned to pay her back). So I moved to the book section, as I love to read. Maybe a new book to find?
The first bin contained mostly kid books so I flipped through them quickly.
Suddenly a book cover that had a brightly colored photograph of Mickey, Minnie, Goofy, Donald, and Pluto caught my eye! Frantic, I pulled it out of the bin, hands shaking.
It was titled
Tokyo Disneyland: A Pictorial Souvenir.
I freaked out! With a gasp, I spun around and demanded MMM buy the book. She asked what the price was, and I couldn't find it (later, I realized it was written in
Sharpie
on a piece of tape. I was so excited I missed it!). She finally gave in, seeing how excited I was. I mean, it's a pretty cool book, circa 1980s based on the
costumes
and also the fact that
Tokyo Disneyland
opened in
1983
.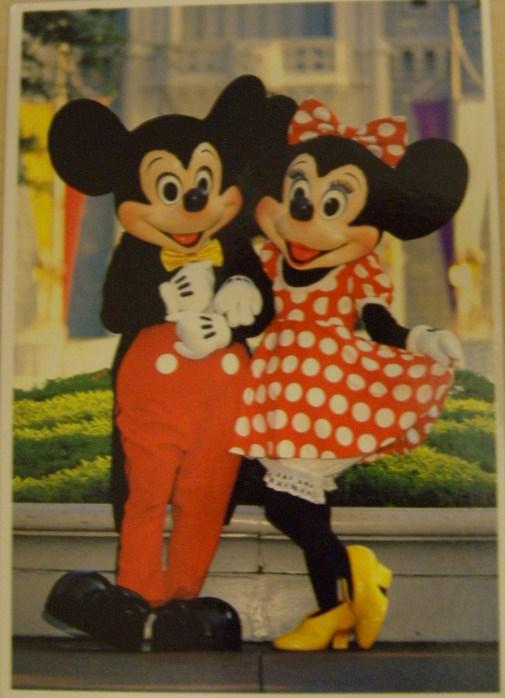 Mickey and Minnie costume.
From the Disney Wiki: "The Mickey and Minnie costumes seen
from the 1970's up to 1992.
Mickey now has a yellow- bow tuxedo,
and Minnie now has red and white-spotted
attire and yellow shoes.
Their gloves are now four-fingered."
Similar costumes appear in the book.
Oh, did I forget to mention there's
a picture of Pooh with a
hunny pot on his head in the book?
Picture from the Disney Wiki.
One of the best parts is that it's written in Japanese, with English translation. My sister plans to study Japanese sometime, so MMM thought she'd like to read the book and learn a bit.
For me, the neatest thing is just owning it and being able to "experience" Tokyo Disneyland without having ever going there.
I did some research to find more info on the book, as there isn't any information about the author or the print date.
One site
I found had scans of the book pages, stating that the book is a 1985 souvenir book. However, upon looking through the scans, I discovered that some of the pictures in that
web page
creator's copy are different than the picture in mine. Such as the one of Goofy on the Westernland pages: his Goofy is dancing, while mine is standing with two kids. In fact, I just realized the majority of the pictures in his copy are different than mine.
The cover
is even different.
Does this mean there are different versions? Or were they printed in different years?
Mine has a 4 in the half circle shape on the corner of the cover. His has a 2. Does this mean mine was produced in a year ending with 4; his, with 2? Or does it have nothing at all to do with the year the book was produced? Because the reviewer Shane does say it's a souvenir book from 1985 on his site...
If you know, please tell me.
I did a
Ebay search
to see if there was any information at Ebay, but the search produced 0 results.
Barnes and Noble
also produced 0 results.
Amazon
produced results, but none of them matched.
After finding this book, I found a young adult fantasy novel I'd read before and had been longing to add to my collection. Added that to my pile. Then as I moved towards the cash register table, my eye caught a glimpse of Bambi.
It was a coloring book.
Perfect.
Now my bestie won't be the only one. More on that later.
Yes, it was just a simple coloring poster Disney book.
But hey, it's Disney. So far I've colored in Lady and Tramp as well as started Peter Pan. I'll share pictures later.
The last thing Disney item I considered getting was a Princess Aurora doll. MMM looked at the price and firmly told me 4 dollars is too expensive for a doll.
Oh well.
Next time maybe.